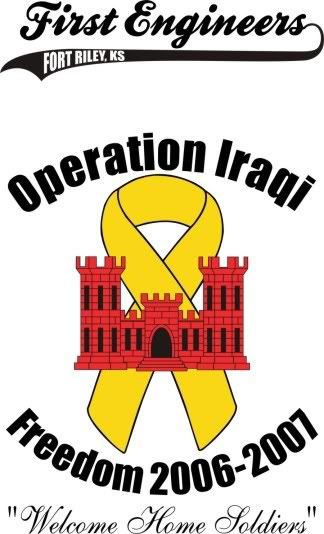 Check this out!

It's the Welcome Home T-Shirt design for Kris' battalion!!!!! If there's a t-shirt design then they must be coming home soon!

In the photo below Kris (left) is handling the re-enlistment of one of his former soldiers. (I am definitely NOT old enough to be this MAN's mother!) Kris has moved on to Battalion Staff for the remainder of his deployment; I'm not sure what that means other than he is no longer the CO of the 111th Sapper Company.















The photo is from the 1st Engineers' August newsletter.

I came across August edition of The Desert Raider, the newsletter of the 4/2 combat team. Though there was no mention or photo of Austin, my familiarity with the list of the Fallen confirmed I was reading about his activities as part of the brigade.

Oddly enough, there were TWO articles about deployed siblings; two brothers and a brother and a sister. I found this little tidbit in one of the articles.



So it has now been confirmed that I am NOT the only stressed out Mom of two deployed soldiers.

Actually, I am less stressed now than I have been in years. With all of the deployments and pending deployments, my heart has been on a roller coaster ride since 9/11. Now we're heading for the finish line and I'm excited!

[Jorge is still the same. The doctors backed off the respirator a little to see if he could do some breathing on his own; he can. Yeah!]